SENPAI
Enterprise-ready AI platform for powerful business operations
Description
So much more than a document and process management platform 
SENPAI is a cloud-based cognitive computing platform allowing you to combine, manage, analyze and ultimately streamline all your business information. You can use the platform to integrate systems, manage content, navigate disparate databases through one single access point and build business applications without additional program coding.
A platform to underpin intelligent programming interfaces, chatbots and assistants
With a semantic graph database engine at its core, SENPAI provides powerful tools for data analysis and enterprise knowledge management and underpins intelligent programming interfaces, chatbots and assistants.
How does SENPAI interact with the world?
The way SENPAI interacts with the whole environment involves combining information from disparate sources, internal and external to the organization, into a knowledge graph. 
SENPAI executes effective communication with all kinds of users and implements workflows through an interactive platform, which supplies programming interfaces, chatbots and intelligent assistants. 
As a custom-coded AI-powered platform for integration, collaboration and content management, SENPAI:
Discovers and suggests models of instances, processes and trends.
Harmonizes software applications and wraps the existing digital systems in a cognitive shell.
Transforms physical processes into digital ones.
Renders various services for cognitive analysis.
Combines human experience with measurable data and analysis in order to predict and influence customer interactions.
Complements existing digital products and services.
Creates a dynamic, collaborative environment with MESH connectivity.
Enables agile creation and changes in product design providing organizations with a competitive advantage.
Increases cybersecurity.
Allows non-technical business users to build and publish apps tailored to their needs in a very short period of time.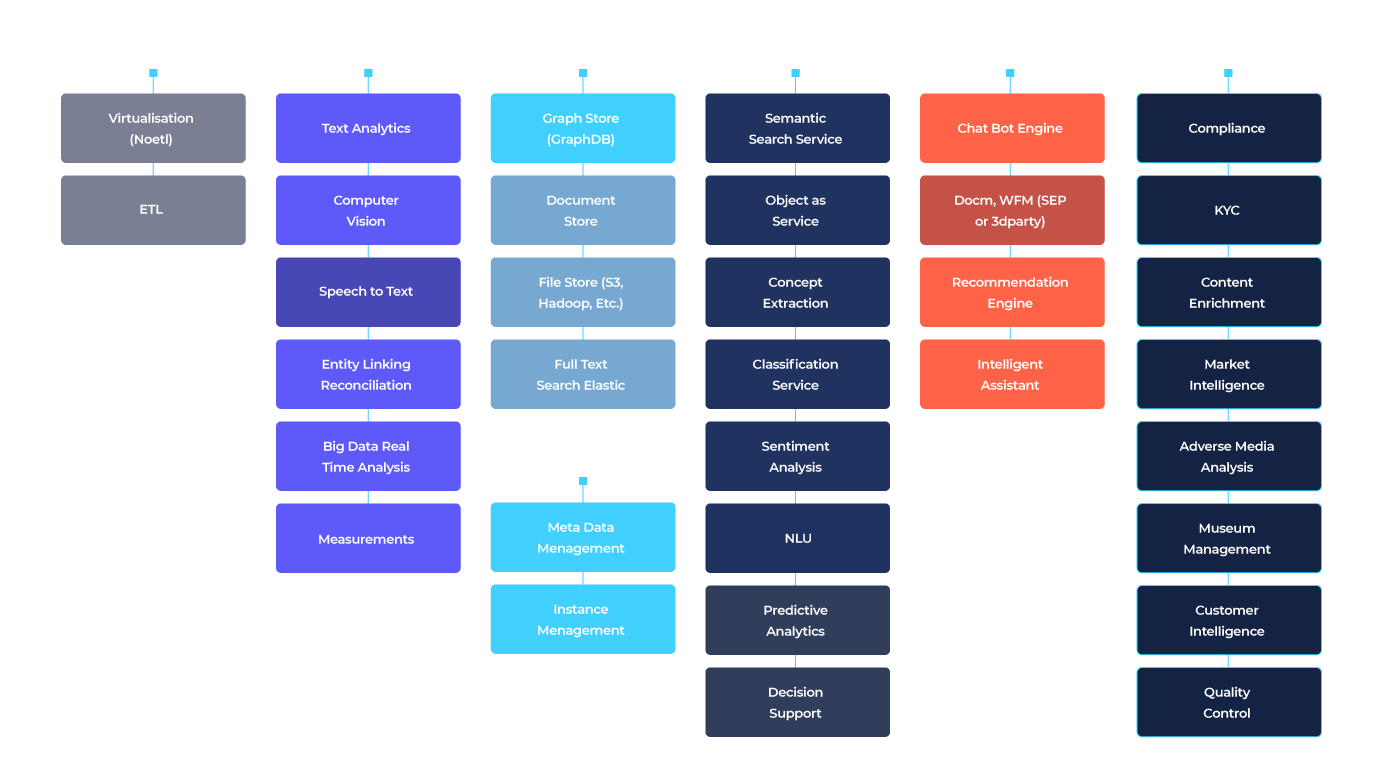 Technology
The cognitive technologies behind SENPAI
SENPAI uses ontologies, vertical data models and implements "AI skills" in order to provide agile and intelligent information retrieval tuned for specific applications. In addition, SENPAI combines technologies for unstructured content mining and data access, extraction and linking.
The system also uses machine learning to adapt its cognitive analytics services and rules, in order to extract knowledge and infer new information. This how the platform provides powerful tools for data analysis generates actions and changes the knowledge graphs, based on feedback from users.
Stack of software technologies
SENPAI builds an information infrastructure of systems, products and services.
Core cloud infrastructure
S‌ENPAI ensures the connection with other cloud platforms (Amazon Web Services, Azure, etc.) and IT systems.
Knowledge modeling and cognitive analysis platform
SENPAI allows the analysis of images, text or other data in an integrated way.
Smart data layer
With SENPAI you get a unified platform for storing, managing and searching knowledge graphs, including proprietary and public data, as well as results from analytics.
Semantic graph database
At the heart of the data layer is GraphDB which is a semantic graph database engine with providing you robustness, data integration and reasoning capabilities.
Sirma enterprise intelligent platform
SENPAI features a LOW CODE platform for building business applications without additional coding.
Business Benefits
Build a centralized digital repository with no strain to your IT infrastructure
SENPAI transforms your data and documents into value and knowledge by creating relationships to navigate through information more easily while maintaining the integrity and security of every file.
The platform keeps and connects all your business information in one place. Within its easy-to-navigate environment, you can create a digital representation of any business object your enterprise might be connected to.
This immensely simplifies your work with a wide variety and high volume of business information and helps you build a centralized digital repository with no strain to your existing IT infrastructure.
Quickly develop new applications
As a low-code platform SENPAI enables the quick development of new applications, adding value to all other existing apps. The platform can be easily upgraded and adds value to legacy applications and data.
The specific applications built on this platform use vertical knowledge models to get a specific view on and control the access to a big multi-purpose enterprise knowledge graphs. Each application can use a specific combination of analytical services, tailor-made process models and conversational interfaces.
With SENPAI you can: 
Improve the process of decision making, having access to relative information in context, by accumulation and reuse of corporate knowledge.
Reduce the overall expenses for applications and integration with a multitude of data.
Enable seamless organizational shifts utilizing a new level of integration, collaboration, and knowledge.
Harness the complexity and dynamics of your interconnected business, taking your operations at a new level.
Gradually evolve your MIS‌ together with the changing business and its environment.
Transform your business
Sirma offers the most advanced suite of AI applications for complex manufacturing, logistics & consumer products.
Work with us