Custom Solution Delivery
Custom solutions to strengthen existing and legacy software and infrastructures
Description
Build modern, large scale systems with NextGen applications
As a full service, IT provider - from the strategy creation phase, development,  all the way to deployment and training, Sirma strives to be a reliable partner for you in creating next-generation IT applications and systems for each industry vertical.
Translate visions into next-generation IT solutions
Most of the businesses need IT solutions to execute their tasks better and quicker. Contemporary IT is evolving at a rapid pace. In this environment, it is wise to use IT outsourcing services to develop appropriate IT solutions for providing the necessary results.
Businesses have the option of hiring full-time staff for the purpose of building and managing IT systems, both simple and complex. However, this is often quite expensive and it may not adequately suit the needs of the company. In some cases, companies simply do not need full-time software developers or other IT specialists. In others, companies cannot afford the most educated or experienced candidates. 
Why work with us
Access the know-how of highly trained experts in the IT field
With more than 27 years of a successful track record of custom software development, IT outsourcing and support, we deliver software business solutions that are easy to use, have an intuitive interface and allow seamless integration between different products and services.
We offer software development with the latest technologies and agile methodology for building modern, UI/UX centric, large scale, and BigData systems. We focus on usability, reactivity, data visualization and cybersecurity.
Our expertise with modern toolsets is backed by core computer science competencies and many successful enterprise software projects:
All our senior engineers are experts in one or more "old school" platforms – C/C++, Java, .NET.
Android and iOS/Objective-C mobile expertise is a key component of our practice. We also benefit from our experience that goes back to pre-smartphone projects for SIM Toolkit, Palm Pilot, 4. Intellisync/SyncML, Symbian and J2ME.
We build core development tools – for example, we developed the MarkLogic XPath developer console Firebug plug-in for Firefox: https://addons.mozilla.org/en-US/firefox/user/consoleML/?src=api
We develop sophisticated live API and data simulators to match specific business processes and data models, in order to support automation at-scale testing of our clients' applications and services
Development process
See what to expect from Sirma's NextGen Cloud Apps & Systems Services: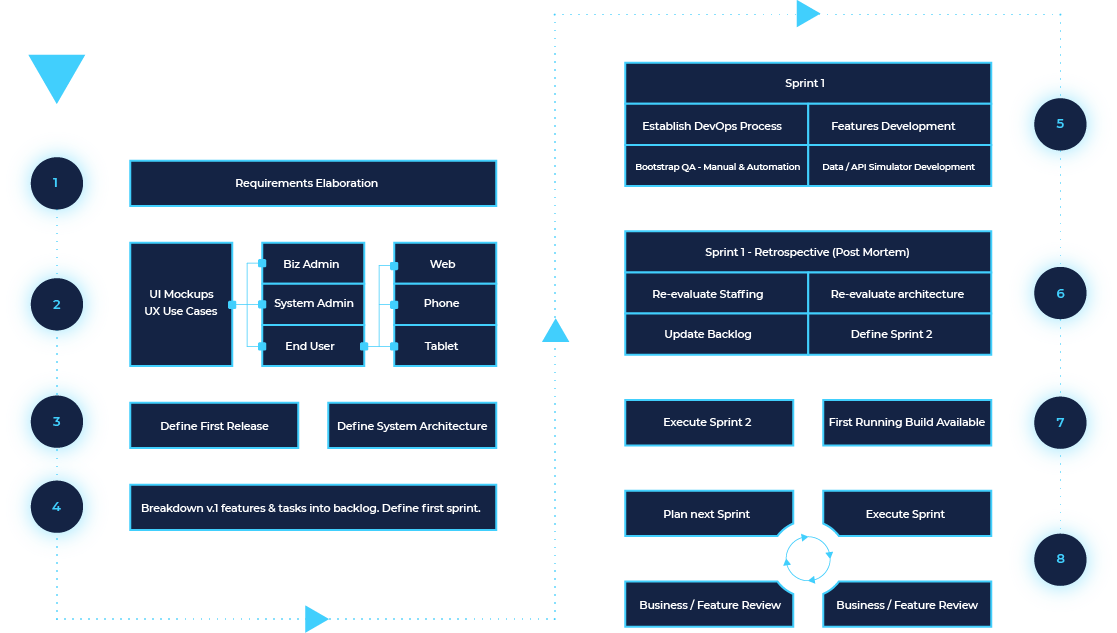 Transform your business
Sirma offers the most advanced suite of AI applications for complex manufacturing, logistics & consumer products.
Work with us