IT Services for Startups
Managed teams of IT experts empowering startups
Overview
"IT" is no longer a niche for techies
Technology has become ubiquitous - mobile and cloud computing reach every sector and every corner of the economy. The explosion in innovation is giving birth to thousands of startups worldwide and a vibrant community of entrepreneurs that wish to see their dreams come true.
What is the result of this proliferation of software?
A massive shortage of capable, professional software developers in every field and discipline. Hiring and retaining talent has never been more challenging.
Startups cultivate ideas into minimal viable products, then on to widespread business use or to become household consumer names. Startups need a reliable technology partner that will follow them throughout the journey, giving their R&D department the scalability and flexibility to be their company's engine for growth.
From delivery centers spread across Bulgaria, we align our resources with fast-growing startups to boost their R&D capacity.
Our expertise
We stand by your venture and help you to deliver and meet your growth goals
You are an early stage or growth stage startup - Sirma is your partner, with decades of experience, over 400 professionals, and fully managed software development centers in 5 cities across Bulgaria that enable each startup company to become the technology powerhouse it can be. We understand what long-term commitment means since 1992.
Sirma's experts fulfill the tasks and support your R&D activities through the development cycles while adhering to accepted methodologies and best practices. You could be in the initial phases of designing and writing code for the core functionality of a new app or a groundbreaking solution, or your product is in a fast scale-up mode in the market, and customers are demanding new features and customization.
Sirma is there to help you to deliver and meet your growth goals.
Software developers and architects
Experienced software developers and solution architects with 10+ years of experience in solid large-scale projects.
Systems analysts
Professionals with strong skills in analyzing reports and databases to identify inconsistencies and ensuring adequate implementation of new systems.
Project managers
Professionals with expertise in various tools, technologies, and practices, with 15+ years of experience and portfolio of complex software projects.
DevOps
DevOps Engineers with a solid background in software engineering and knowledge in the latest technology languages Ruby and Python.
Technical writers
Technical writers experienced to produce high-quality documentation, online help and developer guides that are appropriate for its intended audience.
Graphic designers
Dedicated teams of graphic, UI, and UX designers with attention to details, creative thinking, and design conventions.
Managed teams of Software Developers
Reliable, professional, scalable
Our experts apply their cutting edge skillsets, inject fresh ideas and experiences to give your project the boost it needs to be successfully delivered on time.
Delivering outsourced R&D services at the productivity level, you'd expect from your in-house team.
Java application developer? AI or machine learning architect? Front end or DevOps specialist? Our professionals are technology experts in these fields and much more.
How we work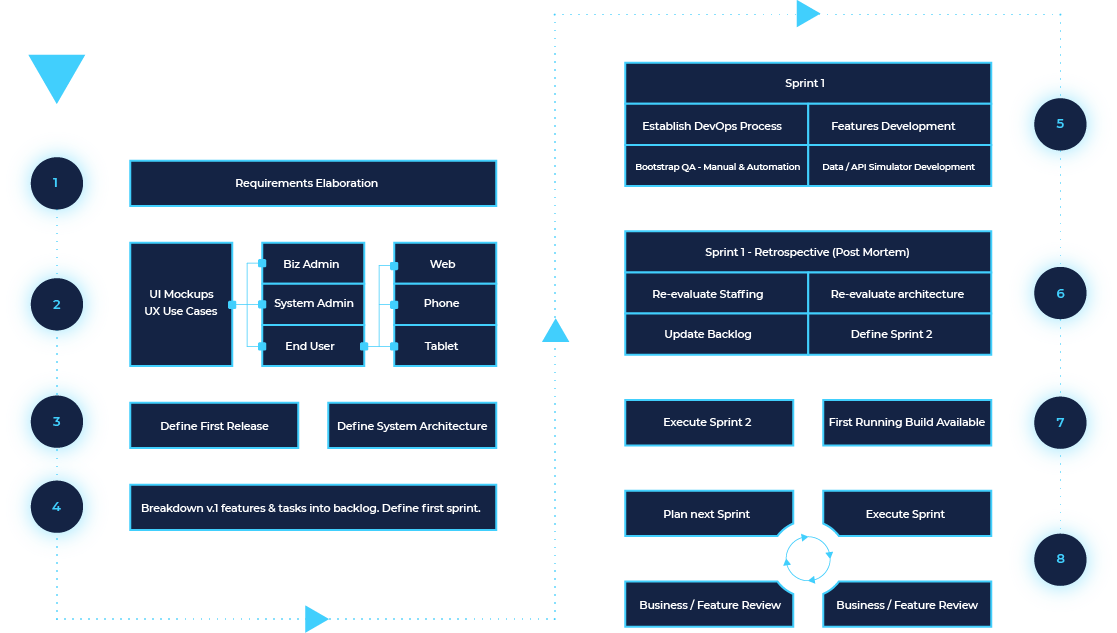 In addition, we provide the following services that you need for your project fulfillment:
Who we are
We are Sirma, Bulgaria's quintessential IT services provider, a time-honored brand trusted for nearly three decades by banks, telecoms, tech and media companies, and governments in Europe and the US.
Technologies we work with
| Enterprise Java | Machine Learning (AI) | Front-end | DevOps |
| --- | --- | --- | --- |
| Spring | SVM | React.JS | Dockers |
| ESB | Linear Regression | Angular | CI/CD |
| Microservices | Naive Bayes | jQuery | AWS |
| DI / CDI | Decision Tree | Knockout.js | Cloud Migrations |
Experts in IT consulting
| Front-end Developers | Back-end Developers | Mobile Development | Quality Assurance |
| --- | --- | --- | --- |
| HTML5 | Java | Android | Unit Testing |
| CSS3 | Go | iOS | Selenium |
| JavaScript | Python | Xamarin | JUnit |
| Angular | NodeJS | React-Native | Cucumber |
| React | Kotlin | Cordova | PHPUnit |
Why Sirma
Delivery for successful solution implementation.
Productivity
Sirma experts on a par with your in-house talent.
Reliability
Tasks completed, full customer satisfaction.
Quality
Specifications, design, coding, testing – we take responsibility from A to Z.
Professionalism
Teams versed in required technologies, methodologies, best practices.
Transform your business
Sirma offers the most advanced suite of AI applications for complex manufacturing, logistics & consumer products.
Work with us