New normal in payments and win-win strategy for everyone
A global digital transformation in the financial market is underway. Changes are not limited to a specific market niche, technology, product or process. Digital disruptors are forcing financial services companies to accelerate digital transformation, and those unable to adapt may continue to exist formally but without the ability to compete in the market effectively. Regulations such as the Second Payment Services Directive (PSD2) are putting the European region in leading positions of payment transformations.
Open banking and instant payments are one of the significant factors for the future system change – retail payments are switching from card-based transactions to account-account ones. In response to this rapidly changing environment, Sirma has developed a complete software solution that all parties involved in the payments ecosystem can benefit.
Sirma provisions the right technology and ready-to-use fintech products, which the open banking strategy requires
Sirma's new flagship product - Open Banking Suite, is a modular solution providing all the necessary PSD2-compliant services and products for the financial sector. Open Banking Suite is among the best solutions for financial institutions or third parties that see PSD2 as an opportunity to create additional revenue streams. The modular architecture of the product allows both integration as a package or the use of each module, that reflects the individual business needs of the financial organization.
All in one - interface, security and payments. Use as a package or only the module you need
Complete solution for the financial sector that ensures a frictionless PSD2 journey. Open Banking Suite is the best choice for financial institutions or TPPs, which see PSD2 as an opportunity for generating additional revenue streams.
Open Banking Suite is a end-to-end solution that includes three separate modules - Up2Connect, Up2Seal, and Up2Pay. The modules could be used individually or as a package, depending on the specific needs of the organization:
Up2Connect is the module that provides a set of APIs, ensuring full compliance with open banking. Up2Seal provides enhanced security for customer authentication by safeguarding secure payment approval based on the 2FA or MFA methodology.
While the first two modules are solutions for the back-end and security of financial institutions or fintech providers, the third module is a solution for all participants in the value chain - banks, merchants and end users.
Up2Pay is Sirma's top-notch solution for open banking payments. It helps users to register their accounts from different banks in one digital wallet and to make digital payments with a software POS terminal.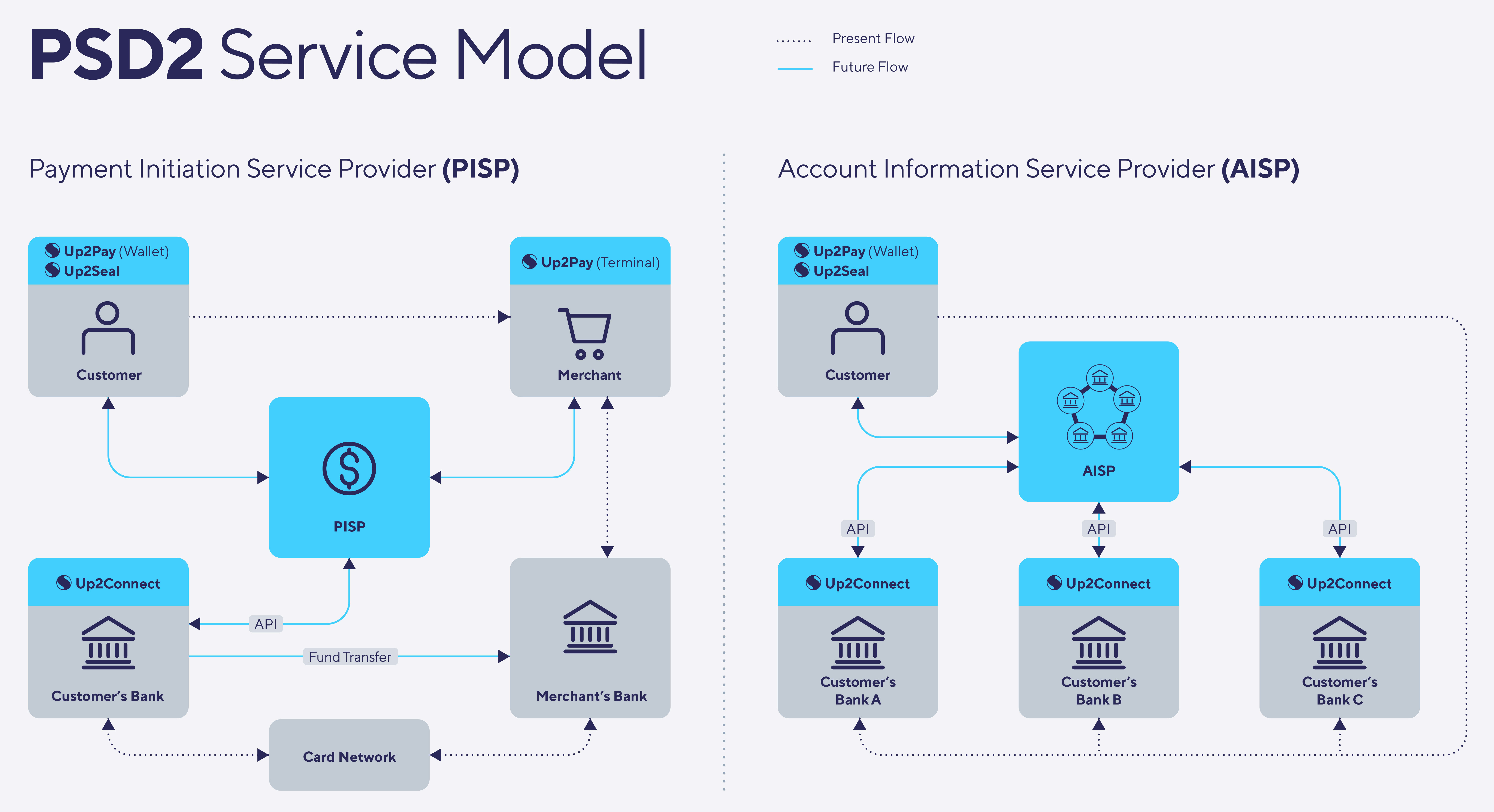 UP2Pay is our game changing open banking payment solution
Here is the list of benefits that all participants in the value chain obtain with Up2Pay:
A digital wallet app combining information for all bank accounts and payment instrument
Account to Account payment initiation and approval
Physical face-to-face, online e-commerce, and offline payments supported
Account Information service available - customers can check available balance and transaction history
Merchant 3D digital payment identity – a QR code with the whole payment data needed for on¬line payment initiation
Offline payments through QR code support
P2P payments
Biometric authentication
Enhanced PSD2 payment processing
Benefits for Banks
Increase in the electronic payments – a new channel for payment initiation
Significant clearing and settlement cost reduction compared to card-based transactions
Easily organizing a closed-loop network with your merchants and customers so all revenue streams are kept in the bank
Powering marketplaces, platforms, and almost everything that's sold online.
Account information aggregation can provide additional information for customers which can be used in the loan approval and direct marketing activities
New revenue stream - transaction fees paid by the customer and merchant fees
Ensure increased security – SCA based transactions without sharing any critical customer data
Provide fully digital customer experience – mobile application and frictionless one-click checkout and SCA PSU experience
Enhanced customer loyalty – the churn rate with digital customers is quite lower
Customers connect securely to their internet or mobile banking to make a payment
Reward schemes for profitable and efficient customer portfolio
Additional transactional data for corporate clients and it their customers, which can be used for deep behavioral analysis
Account aggregation if registered as PSD2 TPP
Benefits for Merchants
Reduced costs for payment acceptance
Real-time payments – combined with instant payments, the merchant will receive funds faster than card payments
Fully digital experience and enhanced reporting
Smooth and seamless integration - pre-approved API widgets for online stores
Lower levels of Fraud and Chargebacks due to Strong Customer Authentication
Straightforward checkout process and lower cart abandonment rate
No credentials or account details disclosed to merchant, and no PCI DSS requirements
No charges on failed or declined transactions
Benefits for Customers
Anti-pandemic cashless digital payment tool
All-in-one solution for account information, payment initiation and rewards
Enhanced digital & mobile customer experience
Single tech solution for a loyalty program from different service providers
No new accounts needed, use all current available ones with all EU payment institutions
Manage personal finance with payment planning, balance updates and reporting at fingertips.
Enhanced transaction security with Strong Customer Authentication
P2P payments between wallet users
It's never been easier to unleash your potential for innovation with Sirma's Open Banking Suite. It guarantees easy, convenient and secure customer access to your banking products. The biggest advantages as modularity, independence from basic banking software and security of digital payments make it most wanted ready to use innovative product for your organization.
For better customer experience and meaningful relationships we suggest you to combine OBS with our Customer Intelligence Suite and to organize loyalty programs and campaigns, loyalty cards and mobile loyalty app and automated proactive interaction with your customers through virtual assistant chat-bot.
Why Sirma?
Sirma's team has unique knowledge and experience in providing banking solutions based on API integration, implementation of open banking solutions and large scale projects for numerous Bulgarian and international banks.
We help our clients undertake overall digital transformation by providing IT and business consulting, advising them for the best choice of technical architectures based on microservices and many more. Our clients are able to implement single or set of technologies that support their digital strategies. Our unique experience in the integration of core banking software within various IT infrastructures has been gained for over 15 years.
Up2Pay - Grow your payments market with direct access to the bank accounts