One of the most significant events - Money 20/20 in the financial sector in Europe, is behind us. Thousands of experts, professionals, technology visionaries and leaders exchanged ideas, shared insights and delivered their speeches to excited audiences. The discussions and presentations at the show centred on developing seamless solutions, preventing fraud in payment gateways, integrating digital payments, and exploring the fast-evolving AI landscape.
It's impressive to witness how the industry consistently innovates and adapts to meet the dynamic needs of the digital world. Here are some thoughts from the event on how fintech technologies are being used to ensure frictionless and secure customer interaction in the banking industry.
Undeniably, financial services and fintech heavily rely on technology and collaboration to make progress. Advances in digitization through mobile devices, chatbots and automation have made digital banking more personalized to serve specific customer groups. Organizations can effectively overcome obstacles and adapt to a transformed future by mitigating fraud risks and hiring experienced professionals.
While technology and collaboration are essential components of digital transformation, they are not the only solution. Companies need to invest in technology, but ultimately their success will be measured by their performance. Change must not become a hindrance to success. For example, mobile banking applications are now a mandatory feature that fintech firms and banks must offer to keep up with digital transformation.
As an illustration, enhancing customer experience and minimizing obstacles are crucial aspects of this requisite feature. There are numerous occasions to streamline the process and improve customer experience by offering real-time cross-border payments throughout Europe and other regions. Using API technology with modern payment infrastructure facilitates prompt, safe, and dependable B2B transactions that span the globe.
Organizations today prioritize the needs of their customers, and to do so, they rely on crucial technologies like Artificial Intelligence (AI), Machine Learning (ML), and Robotic Process Automation (RPA). These tools enable real-time analysis and identification of customer requirements and behaviour, allowing financial service providers to offer relevant solutions. However, it's essential to use these technologies strategically and avoid overwhelming the problem with too many solutions at a time.
Collaborating with cloud technology partners can also lead to effective technology management, especially core banking platforms, thus reducing data centre costs and allocating resources to more productive areas. To provide seamless customer experiences, financial service providers must form partnerships to share the burden of responsibility.
Generally, traditional financial institutions have hesitated to give up control over their operations and processes. However, a collaboration model where partners handle core banking tasks allows business executives to focus on delivering positive business outcomes rather than dealing with technology issues. Ultimately, transforming digital banking strategies aims to provide customers with seamless experiences by developing new products and offering personalized services.
The advancements in digital technology, data analysis, and AI are not just tools but a driving change in the financial industry, providing valuable opportunities while improving customer experiences, service delivery, and operations. Meanwhile, banks aim to prioritize accessibility, seamless interactions, and personalized services to meet the evolving market standards set by fintechs and other platforms and simultaneously maintain responsible practices. Financial service providers must incorporate various digital technologies, including cloud computing, APIs, blockchain, data analysis, and AI, to achieve these goals. With the GPT launch, there has been a significant and natural acceleration in their usage.
This widespread adoption can be a powerful means to provide additional value by offering personalised products and advice, better understanding customers' expectations, responding quickly to their needs, and improving operational efficiency. Generative AI offers immense possibilities, elevating language processing standards in chatbots, call centres, legal document processing, and market analysis. It enhances performance and productivity, aiding email writing and automatic synthesis. It's a transformative technology that opens up new exciting opportunities.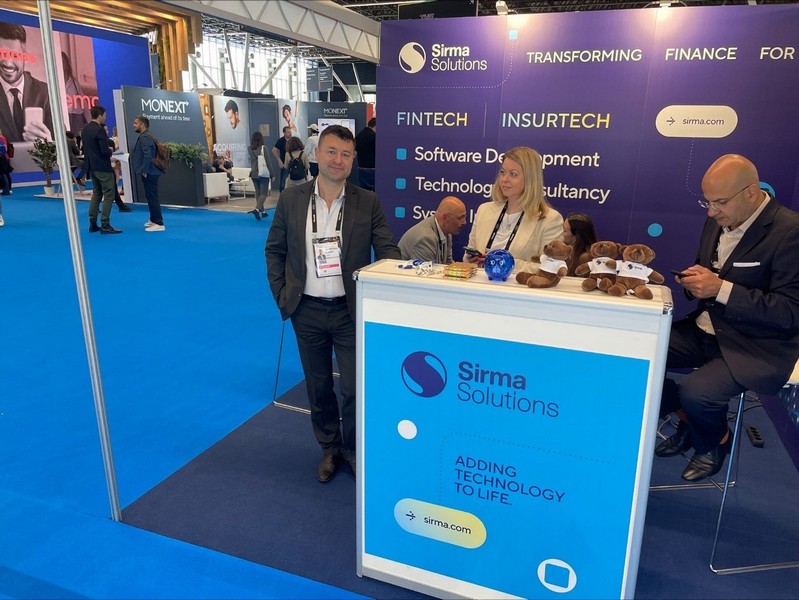 Our team shared it was great to connect and network with so many people at the event! It provided an exceptional opportunity to showcase Sirma's technological and business expertise and know-how, which stem from executing numerous successful projects in partnership with prominent global and regional financial institutions.
Looking forward to returning again in 2024!