Money 2020 EU is a major financial conference which will take place from June 6th to 8th, 2023, in Amsterdam. As the most anticipated and influential event in Europe, it will demonstrate the cutting-edge developments shaping the future of finance. It brings together leading industry professionals, entrepreneurs, and innovators to explore the latest trends and advancements in the financial technology sector. The event's primary goal is to provide a platform for networking, knowledge sharing, and collaboration, fostering valuable connections and driving innovation in the financial industry.
Some recently announced figures by the organisers present the scale of this year's professional interest in the show: 7500+ Attendees | 2300+ Attending companies | 380+ Sponsors | 90+ Countries represented | 350+ Speakers
Visitors and exhibitors access essential knowledge, trends, expert insights, and new ideas and tie-up relations to prepare for what's coming next in the money ecosystem. Everyone can connect with prominent leaders and visionaries in the financial world and discuss their ideas with the greatest minds in the industry.
Sirma's delegates are thrilled to dive into such an exciting ride! We will happily meet and greet prospective partners and clients in Stand F152 Hall 7 at Amsterdam RAI Convention Centre.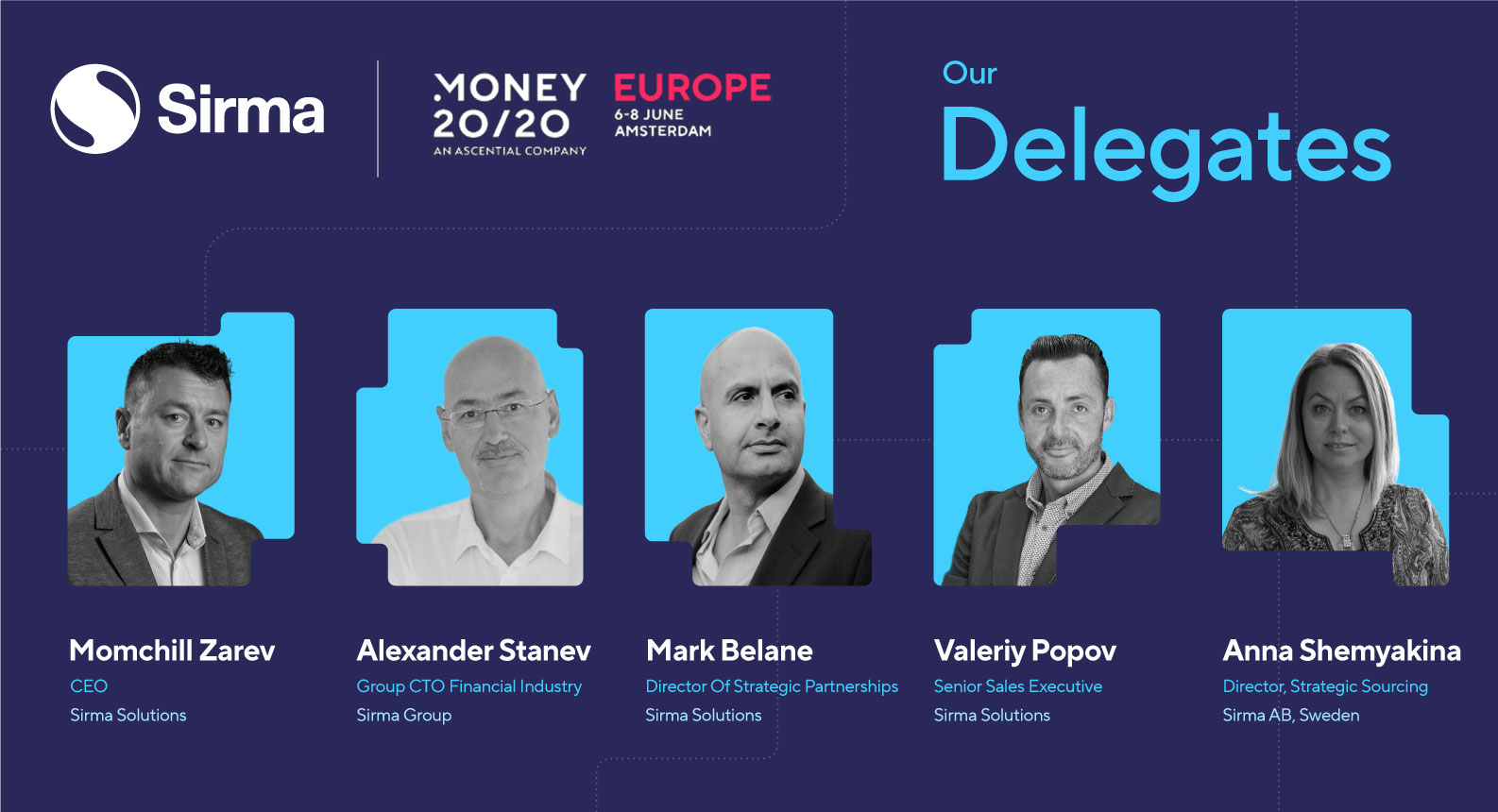 With sessions presenting everything and more trailblazing speakers on the horizon, the show is destined to push money's boundaries like never before. The key topics include open banking, digital currencies, blockchain, evolving regulations, generative AI within fintech and finserv, UX and consumer safety, Web 3, Metaverse and many more…
In a broader context, the discussions will cover:
Emerging Technologies: The event showcases the latest advancements in emerging technologies such as blockchain, artificial intelligence, and machine learning. Presentations and discussions focus on how these technologies revolutionise financial services and drive innovation.
Digital Currencies: Significant attention is given to digital currencies, with discussions centred around central bank digital currencies (CBDCs), stablecoins, and the impact of cryptocurrencies on the traditional financial system. Experts will share insights on the opportunities and challenges associated with the widespread adoption of digital currencies.
Open Banking: The conference explores the progress and impact of open banking initiatives, which aim to enhance competition, innovation, and customer experience in the financial industry. Speakers will discuss the evolving regulatory landscape, successful implementation strategies, and the potential for open banking to transform financial services.
Cybersecurity and Data Privacy: With the increasing digitisation of financial services, cybersecurity and data privacy are key focus areas. The event will address the latest threats, vulnerabilities, and best practices to ensure financial systems and customer data security and protection.
Future of Payments: Attendees will gain insights into the future of payments, including trends in mobile payments, contactless payments, and peer-to-peer transactions, as innovations in payment technologies, such as biometric authentication and seamless checkout experiences.
Networking and Collaboration: Money 2020 EU provides ample networking opportunities, allowing participants to connect with industry leaders, startups, investors, and potential partners. The event facilitates collaboration and the exchange of ideas, fostering innovation and driving partnerships within the financial technology ecosystem.