Technology Collaboration of Sirma and Amira Meditech
Project name: AMIRA
Antimicrobial resistance (AMR) is a global rising threat. We are witnessing a massive scale of inappropriate prescribing of antibiotics (ABs) as a result of a lack of monitoring and control of prescriptions. Many economic factors affect Pharma companies, and many of them are pulling their efforts away from the quest of finding new antibiotic molecules due to expensive R&D processes, relatively small profits related to the short courses of antibiotic administration and the risk of increasing resistance. All of those factors complicate the situation as resistance to AB increases. By 2050, 10 million people are projected to die each year from infections caused by multidrug-resistant bacteria.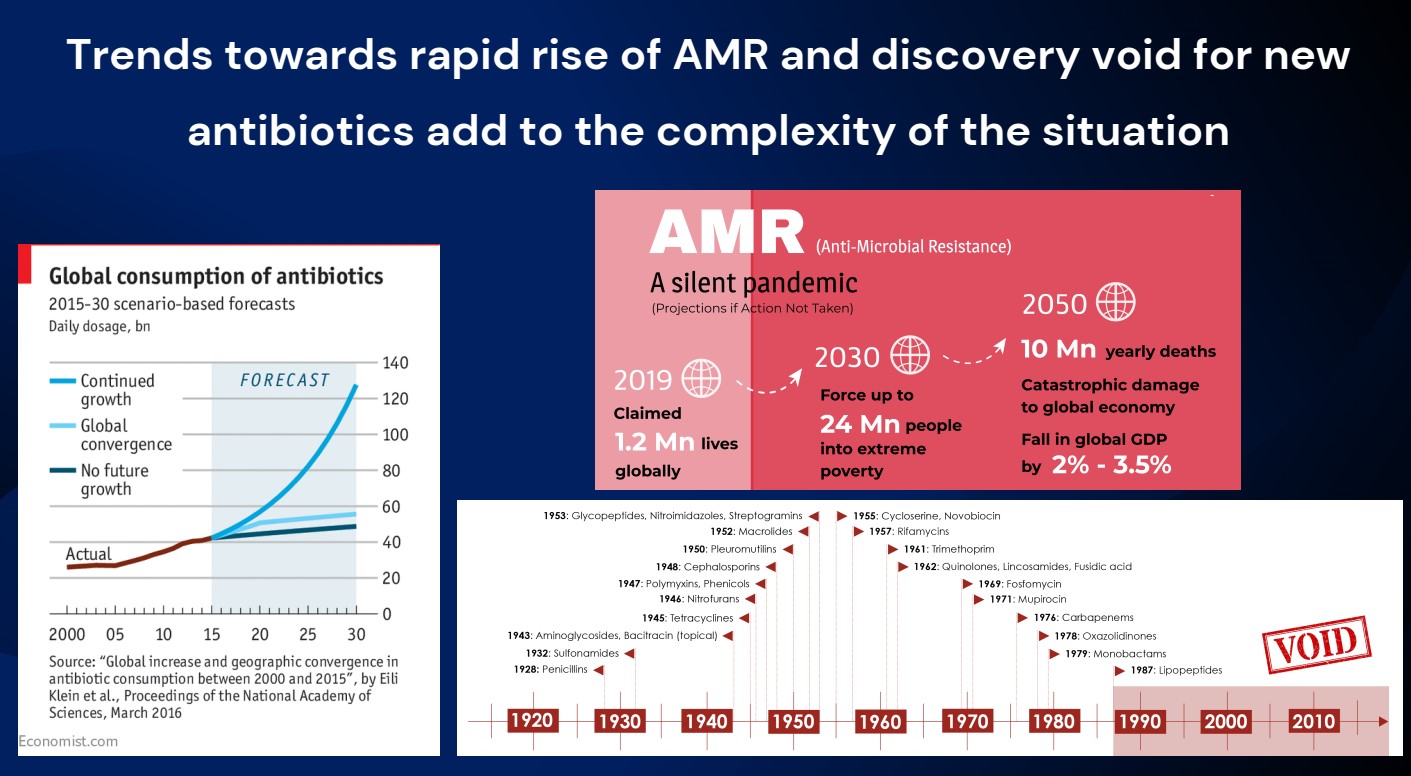 Since 2015, the WHO has been warning about AMR and requires each country to have a personalised action plan to fight AMR. Bulgaria and a few countries are yet to implement such a plan. Recently, the EU has introduced specific targets to reduce the use of antimicrobials by 2030, including a 20% reduction in total human consumption of antibiotics. The government institutions must enforce these plans to fight AMR. However, the law enforcement is yet to be discussed.
Addressing the Challenges and Future Opportunities
The founders of Amira Meditech saw a huge misalignment in antibiotic prescriptions and medication tracking follow-up. They wanted to improve the effectiveness and safety of antibiotics by developing a software solution for hospitals with evidence-based medical algorithms for decision support and data collection.
In Bulgaria, there needs to be better monitoring and control integrated into prescribing antibiotics (AB) for the therapy of infectious diseases. The AB Application treatment protocols (a.k.a antibiotic stewardship policies) are either not followed strictly, and in many medical establishments, there are no protocols at all. These problems lead to the irrational and often overuse of AB, thus generating higher costs for medical institutions and society.
Amira Meditech aims to preserve the effectiveness and improve the safety of existing antibiotics, increase the duration of their use by future generations, and oppose the rise of AMR. To seize this opportunity, Amira Meditech needed a reliable IT business partner and investor who would believe in them. Sirma saw the passion and commitment of the two young visionaries and jumped with excitement into developing MVP.
Scope, Technologies and a Working Solution
As a company aiming to digitalise and modernise treatment decisions, including Antibiotics, the start-up wanted to create a software solution to support doctors in their quest towards choosing the most appropriate personalised treatment plan for each patient with infection with local AMR considered. The innovative product also tracks antibiotic usage in the hospital, improving the effectiveness and safety of antibiotics and saving hospitals money. At its core is a unique evidence-based medical algorithm for decision support, which also serves as a data collector for the prevalence of infections, the effectiveness and safety of AB and the dynamics of AMR.
The data collected by AMIRA can be used to feed AI algorithms to adapt infection treatment protocols more quickly. In this way, algorithms are created to predict how the dynamics of resistance change and how they are influenced as a result of the prescription behaviours of doctors, and authorities can see which antibiotic is threatened by AMR, which will allow them to preserve its effectiveness on time.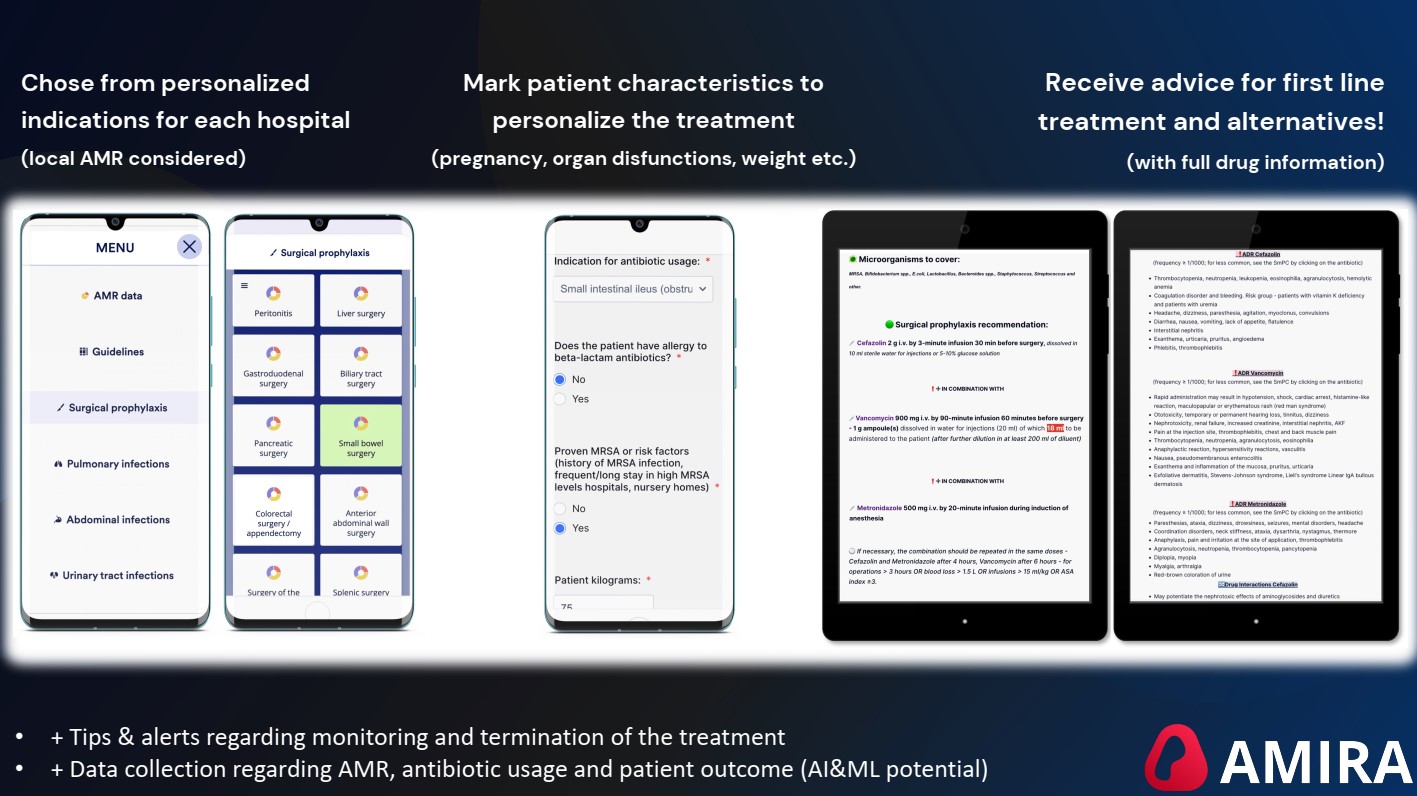 The algorithm is based on the most up-to-date EU and local guidelines for infection treatment, with included information on the unique local antimicrobial resistance of each hospital and comprehensive drug-related information to serve doctors during their everyday fight with infections. Also, the solution provides an opportunity to track existing in-hospital AMR. The technology allows personalisation to the patient to whom the antibiotic is prescribed and to the specific antibiotic stewardship of the hospital facility; thus, it achieves personalisation on two levels - the hospital and the individual patient.
The software's backend is based on Spring boot, and the customer's front end relies on React. ML and AI-supportive technologies are also being implemented for more accurate and adaptive treatment alternatives. Implementing these technologies into an MVP is the goal of Sirma's IT team as a technology partner. A final working solution is soon to be developed.
Testing, validation and product development
In healthcare, everything that reaches the market has been tested and validated. This is why AMIRA's current goal is implementing the MVP into a hospital and further developing its solution. At the moment, two hospitals are testing the prototype, and two universities are supporting the project development. Proof of concept would undoubtedly be reached as many health organisations are alarmed about the danger of AMR, and AMIRA has just the right tool to help with prevention. We believe that the start-up is on the right track to provide every hospital with an indispensable software assistant fighting against AMR.
About AMIRA
Amira Meditech is a Bulgarian start-up with the ambitious goal of helping healthcare practitioners improve the outcome of antibiotic prescription in hospitals while helping fight antibiotic resistance on a global scale. They provide valuable insights into antibiotic usage for hospital management while saving economic resources. The product has won 2 awards from Intel, for its potential for AI integration, due to the ability to collect structured data and subsequent processing through AI algorithms. Backed by Innovation Capital and Sirma Venture Lab, the young company is paving the way to minimize the spread of AMR.
Natalia Konova, MD, Co-founder of AMIRA Meditech shared
Collaborating with Sirma has enabled us to expedite the development and implementation of our concept, resulting in a faster MVP launch. We are delighted to be working together and are thankful for your assistance and confidence in us.
About Sirma Venture Lab
Sirma Venture Lab is investing in innovative tech solutions which will change people's lives in the long run, and AMIRA is one of them. Our incubation program is constantly searching for the next game-changing idea. We work hand-in-hand with innovative startups to assist them in developing their Minimum Viable Products and prepare them for actual market validation.