Imagine a world where your financial advisor is a robot, and you receive the most critical advice on money management and communication with your bank. This is not a far-fetched idea because the technology for its realization is already existing.
FinTech companies and digital banking solutions have heavily influenced the financial sector to provide exceptional customer experience with the help of software applications embedded with AI features.
The conversational AI bot Melinda, created by Sirma, uses the most contemporary trends in the field of machine learning and technologies for natural language processing and understanding (NLU and NLP). This allows Melinda to interact with bank clients, to analyze and understand the context of the conversation it is part of.
On top of using popular AI communication technologies, Melinda also relies on the innovative RPA (Robotic Process Automation) technology, which allows the chatbot to be used as a means of communication and actively participate in completing any inquiry.
Melinda performs as a front-end RPA bot by helping consumers to initiate an automated process. The user starts a conversation with a chatbot, through which the bot collects the information needed to complete the RPA task. If the user fails to provide clear answers, the chatbot can ask for clarification or a confirmation before passing the information on to the RPA bot. Finally, the RPA bot initiates the process, exchanging information with the user via the chatbot interface.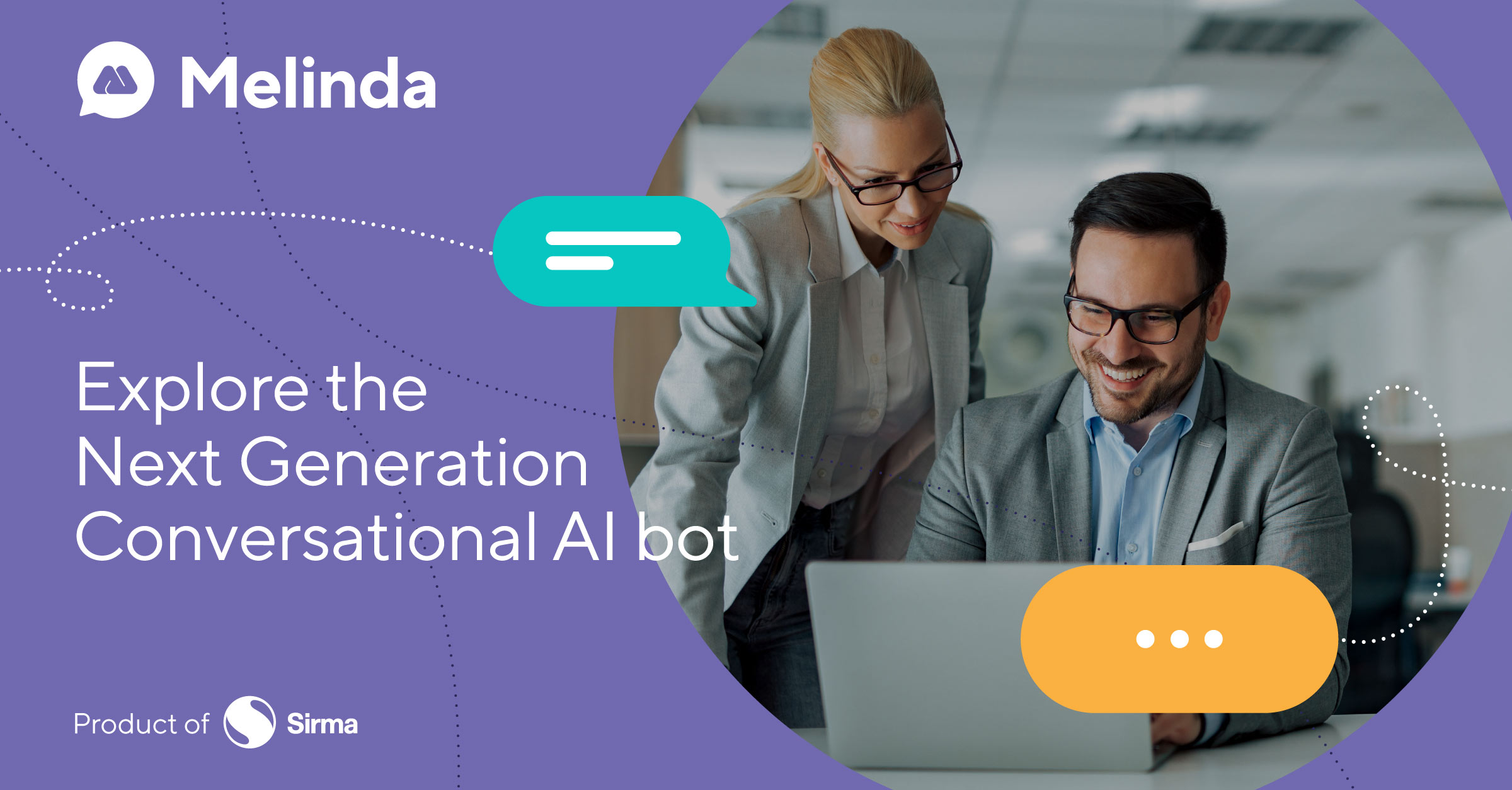 In contrast to traditional chatbots, Melinda's intelligence allows bank institutions to successfully integrate the bot into a function without predefine scenarios such as sales, lead generation, opening accounts and transaction management. Conversational AI bots and RPA support the business and its customers significantly due to their ability to learn through time.
"Juniper's research predicts that NLP chatbots will allow financial and medical organizations to decrease customer service costs with 8 billion dollars until 2022."
Robo-colleague? Why not?
The processes in financial institutions are usually quite complex; thus, the integration of robotized solutions in order to automate financial operations provides an enormous opportunity for improved employee efficiency and regulatory compliance. Melinda can be easily turned into an internal processes automation system which significantly cuts costs. It is developed to be easily integrated with and add to various ERP and CRM systems applications to call centre solutions, e-commerce platforms, and payment systems. This technology allows customer service centres to provide effective and intelligent 24/7 support by replacing face-to-face service and saving companies up to 90% of human resource expenses.
Integrating this robotized process management provides for quick automation of simple and complex business processes, thus leading to a significant increase in profit margins and productivity. RPA will provide teams with the possibility to delegate routine jobs to a robotized assistant, while the team focuses on tasks that require human experience for their solution and a strategic approach. RPA can take up tasks such as data transfer between applications or repeated actions like a click, data input, a swipe, etc.
From a chatbot to a financial Robo-advisor
Melinda's standard version is a chatbot application integrated into bank systems to become a full-scale Robo-advisor. Melinda is able to answer simple customer inquiries and undertake a full-scale conversation with them, offering different bank products and answering all of their questions. In practice, Melinda can quickly turn into a financial counsellor, which can be trusted to provide information and advice on the complex topic of banking.
Due to its embedded intelligence, the system can increase bank sales while increasing loyalty and customer satisfaction. Simultaneously, the system lowers customer relationship-related expenses, making the wealth management service more accessible.
Therefore, people with modest financial funds can also afford a financial advisor, and regardless this service has been considered suitable predominantly for wealthy consumers. On the other hand, an automated Robo-advisor system can make quality financial advice accessible to a broader range of customers.
The chatbot is not a whim, it is a necessity
"Melinda adds a new layer of intelligence to the information systems of banks, using the latest AI technologies. The system is constantly updated and developed, ensuring companies that they will have at their disposal the latest tech solutions and features in this dynamic field at any given moment", shares Momchill Zarev, Chief commercial officer at Sirma Solutions.
Artificial intelligence is already promising to become the next big change in the financial services field after online banking, mobile banking and digital portfolios. Melinda's intelligent system perfectly positions itself as a trustful partner to banks in this new segment of the financial sector.