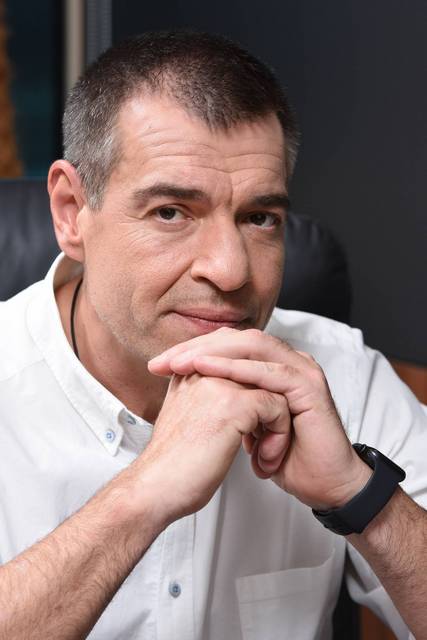 Interview with Mr Tsvetan Alexiev, CEO of Sirma Group Holding
Mr Alexiev, it has been over a year since the company Sciant joined Sirma Group Holding. From the distance of time, how do you assess this acquisition?
The acquisition of Sciant was successful for Sirma Group. In fact, by acquiring the company, we got more than we expected before the deal. The company's positioning is very good - with an excellent reputation, business, and global market reach. Sciant operates in two main verticals - transportation & logistics and the hospitality industry. In the international markets, the brand is well-recognized among the major logistics companies and hotel chains. The company is well structured, has a focused business, employs excellent professionals, develops targeted marketing, and has a solid international sales team, i.e. it has all the prerequisites for stable growth and success in these two main business lines.
What are the financial indicators of Sciant for 2022? Do they meet your expectations?
In 2022, Sciant's financial results exceeded our forecast by a significant margin compared to when we acquired the majority stake (October 2021). These results were also bounded to the payment of the remaining share. In the latter part of the deal, Sirma Group paid a premium price, which did not weigh on us. On the contrary, we are pleased that the company performs better than expected. And, of course, this was a great pleasure doing business for both us and Sciant's founders.
Were you able to put synergies in place between Sciant AD and the other companies in the Holding?
We are trying to achieve synergies, but I must admit that the efforts need to be increased, and we are at the beginning of the process. We will continue working actively towards integration with the Group's other business lines. Such processes are known to be lengthy and require a carefully structured approach, a clear plan, and, above all, successful communication. This year we will work towards closer integration. 2023 is the year in which the process starts, and I hope it will be carried out smoothly and in collaboration with the management of Sciant.
At the beginning of April 2023, SGH acquired the remaining 22,2% capital of the subsidiary Sciant AD. Why was this necessary?
This was part of the deal agreed from the outset. Acquiring 100% was necessary to integrate the company more fully into the Sirma Group. We have consistently pursued our long-term goal of increasing the Group's revenue, profit, and staff and are working hard to be listed on a major global exchange, most likely NASDAQ.
What are the future plans of Sciant after the complete acquisition by SGH?
As I mentioned earlier, the direction is a deeper integration of the company with Sirma, but we are still working on the integration plans and waiting to announce the details.
With the complete acquisition, are you adding new markets, partners, and technologies?
The acquisition, whether 100% or part of the company, has enabled Sirma to add two new verticals, which are very strong and promising for future growth - transportation & logistics and hospitality. In these areas, the company has a significant portfolio of international customers. This positions us among the big players. It is particularly pleasing when you participate in the various international exhibitions, where you can clearly see how the Sciant brand is highly recognizable, both by the major software vendors in these verticals and by the customers themselves, whether they are substantial international logistics companies or very well-known hotel chains.
What positions will hold the current executive directors of Sciant following its acquisition by Sirma?
We have now started the integration process. Our greatest desire is to retain all of the people from Sciant because we value their professionalism, experience and expertise, and we highly regard them. We wish that the entire team at Sciant will continue to work as professionally and efficiently as ever, working together now within the Sirma family and making together something bigger out of the new structure.
When will the Sciant team become part of the Sirma team? What is your vision for the successful integration of the teams in Bulgaria? How do you see the collaboration of the international offices?
We have yet to make detailed plans - stages, processes, and activities for the integration. We desire to make it happen by an approach that ensures one plus one equals more than two while at the same time retaining the best parts of the two companies. We both agree that there are things that Sciant as a company does better than Sirma, and there are other things that happen better at Sirma. We want to take the best practices from both organizations and make an even more robust, service-oriented company.
In terms of the international offices' collaboration - the R&D centers in Albania and our sales teams worldwide - that's the next step; first, we need to do the successful integration in Bulgaria.
What are your expectations for the consolidated financial results of Sirma Group for 2022?
Revenue growth in 2022 was very good for the whole IT industry and a good year for us. We achieved a revenue increase of nearly 25% compared to 2021. All the larger companies in the Group have excellent financial results for 2022, i.e. profit. The only unpleasant thing for us as numbers, but not as reality, is the appearance of a sizeable consolidated loss, and I would like to clarify this accounting aspect.
In 2022 and early 2023, we successfully sold the majority and residual stake of shares in one of the group companies, Sirma AI / Ontotext. The buyers were a few funds - Integral, Carpathian Partners, PortfoLion Capital Partners, and European Bank for Reconstruction and Development (EBRD). Given the complexity and length of the negotiations with the buyers, we have done a very successful deal.
As a result, a consolidated loss emerged, but this is an accounting effect. It arises as the difference between the value of the assets sold and the price at which we sold Sirma AI. This is a consequence of the valuation of the assets created through financing technological developments under European projects. Sirma AI has accumulated assets representing software developments of various technologies funded under the EU. No funds from Sirma Group have been used for the development. When we decided to proceed with the sale of Sirma AI/Ontotext, we analyzed the market conditions to make an assessment and to consider the most appropriate time of sale. All software developers in the field of AI appreciate revolutionary breakthroughs in generative AI and the successful introduction of commercial versions of the giants - Microsoft, Google, etc. In addition to analysing the market state, we observe a global contraction of the IT sector and still prevailing uncertainty and expectations of a worldwide economic crisis. There was a lot of news in Q4 of 2022 and early 2023 about many IT giants making significant employee cuts.
As a result, our analyses showed that our proprietary technologies were worth the price we could obtain. The economic situation and recent technological breakthroughs in AI are putting pressure on smaller vendors to seek a strategic investor for the following stages of development of the technology solutions they have created. Everyone is aware that such large-scale projects require substantial R&D resources and investments in the tens and sometimes hundreds of millions. That is why I believe that in 2022 and Q1 of 2023, we have made a successful sale of Sirma AI, and the financial resources raised give us exciting opportunities for future acquisitions and growth.
Recently, it was announced that the investment loans from Sirma Group were fully repaid. The amount accounts for EUR 4.4 M. From a management perspective, what step is this? Is it related to economic/political uncertainty or still rising inflation rates? Will there be enough fresh capital to support large-scale R&D projects and new acquisitions?
We received significant cash flow on the sale of our subsidiary Sirma AI. In line with corporate strategy, we are in active negotiations with several companies in Bulgaria and the region we are exploring for potential acquisition, but we have yet to decide. With enough funds available in our bank accounts and the rising interest rates on bank loans, we have decided that it is better to repay our existing loans with a small portion of the proceeds. This has a significant positive annual financial effect. We can still opt to credit if we need more financial resources than we have, e.g., for a more substantial acquisition transaction. Banks are comfortable lending to an organization that has zero debt, sufficient cash, significant revenue, continues to grow, and is profitable.
Will there be a change in your strategy for new acquisitions in the region in 2023?
As I have already mentioned, there is some global uncertainty in the IT business. Big IT companies are laying off people; the startup funding is more complicated, along with delayed access to new investment rounds. We are seeing an increasing number of companies in the region looking for an exit. On the one hand, this is good; there is supply, but on the other hand - what is the actual situation - there are companies that are delaying the payment of salaries, new positions are offered with decreasing wages, and there is a freeze on new hires. That is why we are on hold to aggressive acquisition plans for a while to see how much this uncertainty deepens.
The good news for Sirma is that we are very well positioned even if a crisis in the IT sector occurs, like the Dot.com bubble of the early 2000s (October 2000 to October 2002). Sirma Group has a stable business, no liquidity difficulties, long-term projects, and excellent long-term relationships with existing customers. Like all companies in the sector, we are experiencing some slowdown in new customer and project acquisitions, which will likely be reflected in our 2023 growth forecasts. Our stable portfolio of clients, projects, and significant accumulated financial resources give us confidence and optimism that we will get through any crisis with confidence.