Investor Finance Forum Unveils Trends and Strategies for Growth
The upcoming 12th edition of Investor Finance Forum, the largest event for the region's financial and investment community, will take place on November 7th at the Inter Expo Center, Vitosha Hall, Sofia. The event is organised by Investor Media Pro and will once again feature experts from the banking sector, capital markets and stock exchanges, the financial and fintech sectors, as well as regulators.
The conference will outline the development of the financial sector in Bulgaria and worldwide through the analysis and assessment of leading economists and experts in the field. Macroeconomics, capital markets and investments, ESG, investment companies and ranking of investment funds in our country, fintech and active investments are the main topics to be discussed.
Sirma is a proud sponsor and participates with a speaker - Tsvetomir Doskov, CEO of Sirma Business Consulting, in one of the most exciting panel discussions - FINTECH. The panellists will discuss the following major trends such as AI, cybersecurity, regulations, open banking and investing in the age of AI. Delegates of IFF 2023 are also Momchill Zarev, CEO of Sirma Solutions and Alexander Stanev, CTO of Financial Industry at Sirma Group Holding.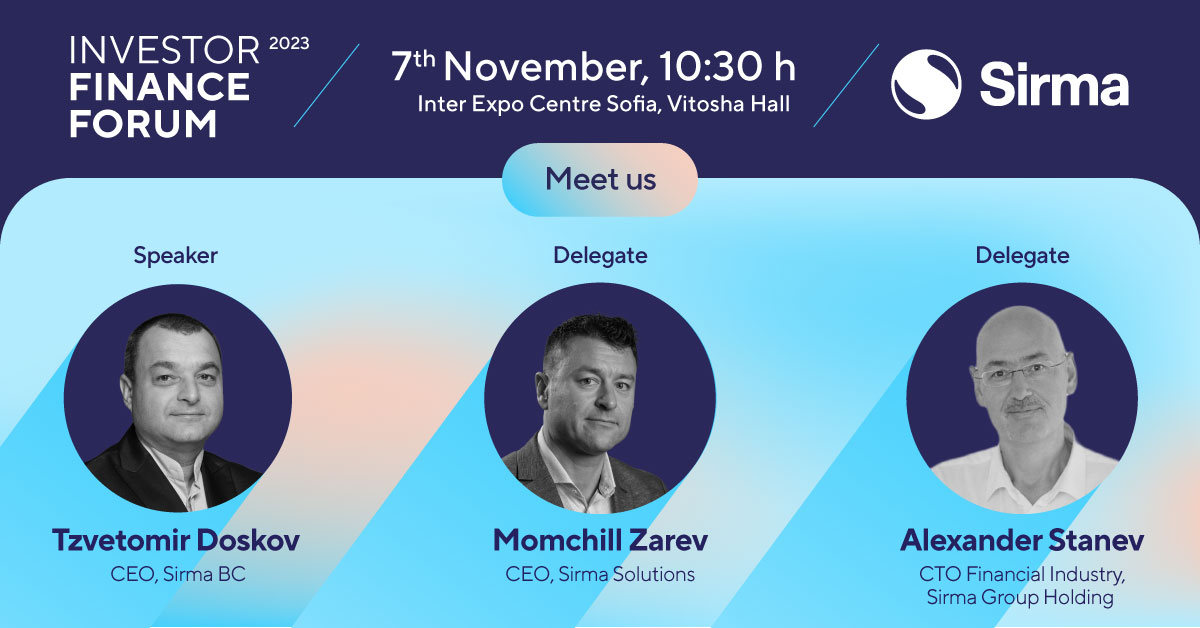 Here are some of the important aspects that the discussion will cover:
Changing attitudes towards digitisation and building user confidence in using digital services. Adapting the regulatory framework. Adapting customer service models and focusing on the digital service/space. Train users in the use of digital tools.
Explain the key steps the banking and financial sector needs to undertake in order to achieve successful digital transformation. What is crucial for banks to succeed in such a rapidly evolving environment? Understand the digital needs of business units, customers and user groups. Defining goals and metrics for adopting digital products, services and tools.
Ensure a secure infrastructure environment and support digital initiatives. Identifying priorities for development and facilitating the implementation of digitalisation. Active dialogue with government to open systems and ensure connectivity in the use of digital services.
Applications with Artificial intelligence and innovative implementations of finance. We all agree that AI has a vast application in the financial sector, both in process optimization and data management, as well as in customer service.
Tsvetomir Doskov, CEO of Sirma BC, shares
Sirma is committed to supporting events like the Investor Finance Forum. This forum provides a platform to discuss achievements, generate groundbreaking ideas, and overcome difficulties in developing digital financial services.
The moderator of the FINTECH pannel is Georgi Penev from the Bulgarian Fintech Association, and the rest of the participants are presented by well-known names in the fintech community in Bulgaria - Galya Dimitrova, CEO of IRIS Solution, Ivo Boyanov, Rabbit Solutions, Ivan Hadjov, Mastercard, etc.