Momchill Zarev, CEO of Sirma Solutions, shares his take on the recently visited MWC 2023 event, as part of our C -level Managers' series of insights.
The new reality in payments reveals that enormous volumes of transactions are now embedded in various services and products in our daily lives. It seems such a critical activity has taken over a new dimension – payments are dissolving around us and becoming almost invisible. This is one of the most significant trends we saw at this year's Mobile World Congress, which took place from 27 February to 2 March in Barcelona. The most exciting tech event in the early spring has gathered over 88,000 representatives from the technology industry.
Almost everything could be seen in the exhibition halls. The lectures of the mobile exhibition shared so many insightful thoughts, to name a few - from the latest connected cars to robot dogs running between the stands, a variety of virtual reality helmets, Internet of Things products and complete solutions, numerous demonstrations of Artificial Intelligence, to the Hyperloop transport of the future and a real flying car. The Metaverse, Blockchain, Artificial Intelligence, and the Internet of Things were among the most interesting new digital sub-segments to hit the spotlight at this year's edition of the biggest mobile forum.
The pandemic had a severe impact on MWC - one congress was canceled due to the blocking of access, and two others were held to relatively low interest; however, this year the tech world gathered again in the beautiful capital of Catalonia. With over 2,400 exhibitors, sponsors, and partners, more than 1,000 speakers and 40% women among the keynote speakers, and 196 government delegations from over 150 countries, the forum lived up to its promise of being one of the most influential tech events of the year, if not the most influential. The number of government officials attending the event was close to 70, and that of the heads of regulatory bodies was over 100. There was also no shortage of sports stars, artists, tech entrepreneurs, and visionaries. Momchil Zarev, CEO of Sirma Solutions, also joined the event to participate in discussions on the future of the technology sector. His agenda was quite intensive, with over 30 meetings and conferences with prominent industry leaders. We asked him to outline the most significant moments and personal discoveries during this event.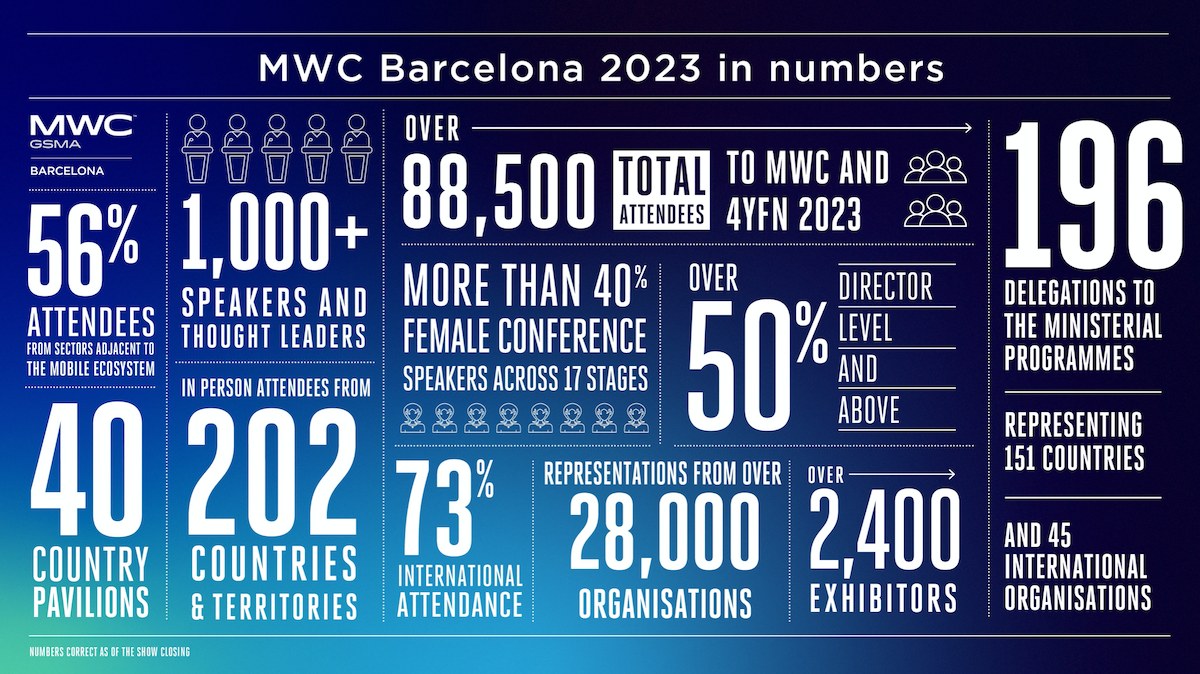 © infographic MWC 2023
Momchill Zarev shares, "I have met incredible people, tech leaders, and like-minded people. Can you imagine that the total number of attendees at MWC23 was over 88,500 from a total of 202 countries and territories, and you can approach and speak to those whose companies reshape the world? I was honored to have such an opportunity. As a person with a strong background in the software development of mobile applications, I was surprised that almost 60% of them were from industries other than the core mobile ecosystem. Automotive, banking, software development, sustainable construction, and home appliances were some of the sectors strongly represented at this year's mobile show. Technology is infiltrating all other areas of the economy and redefining them almost daily, and this trend could be seen at its best at the Barcelona Forum."
With the rise of cryptocurrencies and blockchain technology, there is no doubt that fintech is taking on an entirely new meaning and revolutionizing the financial industry. Given the speed at which technology is evolving today, mobile banking and digital currencies are not just about making payments more efficient; they provide a new way to transact within a global digital economy. Even more, the convergence between mobile and payment technologies is evident everywhere. Crucial in this convergent environment is the role of payments, which are becoming a ubiquitous layer of mobile services embedded in various aspects of our lives. It is, therefore, the new normal that the participation of fintech companies at the show was meaningful, showing how the traditional boundaries between banking, payments, and investments are blurring and payment services are becoming real-time and without limits.
There was a separate Fintech Summit held during the Mobile Congress, which brought together leaders and visionaries from the mobile and banking industries, as well as representatives from the fintech sector, to discuss how the future of payment services will evolve.
"We saw at MWC that mobile communications are a vital enabler of payments, but they are far from the only enabler. New technologies such as artificial intelligence, cloud architectures, blockchain, and even virtual and augmented reality, and the new business models emerging alongside them, are essential drivers for electronic payments. We are delighted that Sirma is well-positioned in these innovative areas. With our comprehensive expertise in key technology segments such as artificial intelligence, fintech, mobile ecosystems, and business software, some of which we have over 30 years of experience in, we are poised to play an instrumental role in the mobile payments revolution," added Momchill Zarev.
The term fintech is no longer sufficient to cover all the changes we are witnessing. Whole new groups of technologies are emerging, such as insurtech in insurance, invest-tech, and microcredit. "All this creates new financial flows and new opportunities to receive and send money, no matter if we are in different cities, countries, or even in the metaverse. Payments that are instantaneous, convenient, built into the very services and platforms we use and managed by artificial intelligence," pointed out Momchill.
Mobile interfaces have redefined payments in many ways, and consumers are now getting used to the convenience of shopping and paying for goods with a few swipes on smartphone touchscreen displays. This trend is set to deepen further as the next generation of consumers who 'live on their phones' and are much more accustomed to their interfaces enter the market. Traditional payment methods such as cash on delivery will be long outdated nonsense for them. Logically, therefore, in recent years, we have seen an increasing number of new payment solutions based on mobile wallets, as well as new digital currencies that have the potential to redefine financial systems themselves.