In a series of blog posts and interviews, we have started presenting the C-Level Managers in Sirma, who share their insights, thoughts, experience, and professional advice. Having built their careers at Sirma, these leaders are instrumental in implementing innovative technologies for the overall digital transformation of enterprises.
Innovation is a crucial element of success in today's fast-paced business environment. It is the process of creating new products, services, or processes that can help organizations stay competitive and grow. However, innovation can be challenging and requires a disciplined approach to ensure success. The main ingredient of long-term prosperity is constant movement. Having the pulse on recent IT innovations has been the game changer for a clear vision and mission here at Sirma. Our organization fosters a culture of innovation and takes a structured approach to implement new ideas.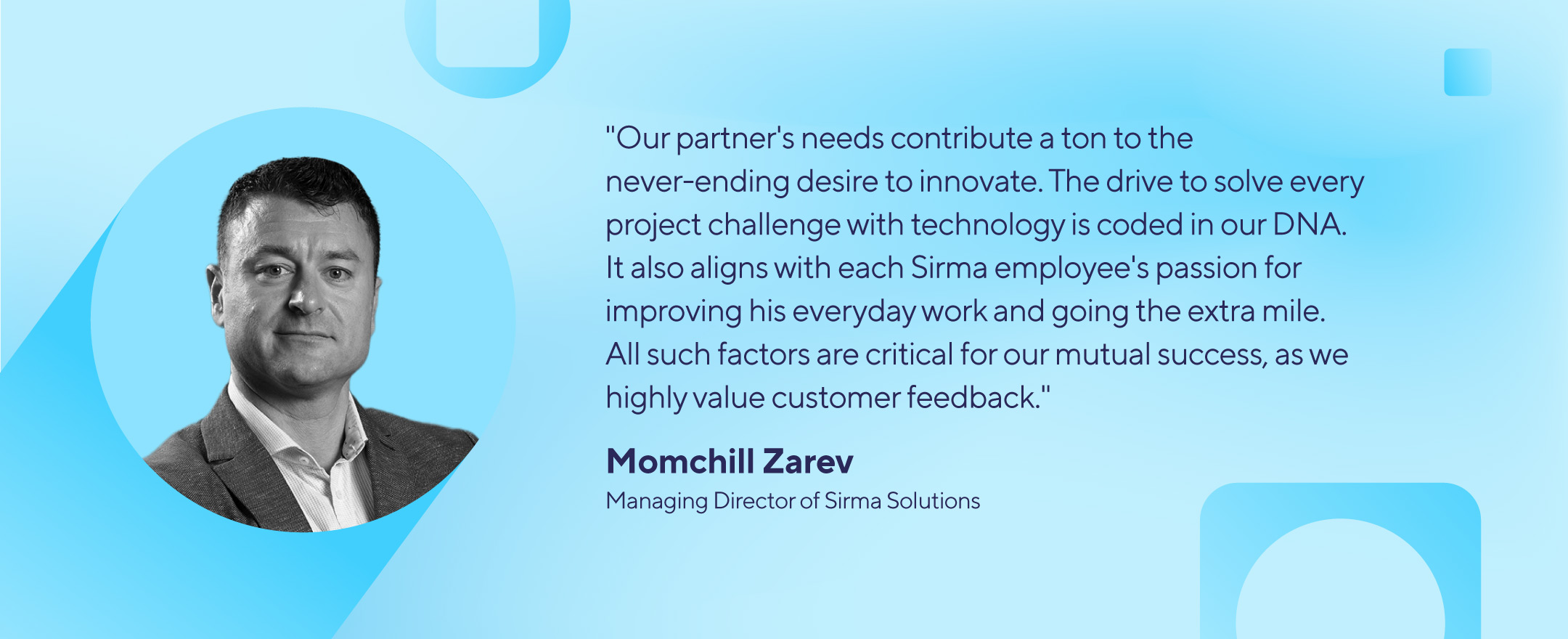 A strong leadership team is critical in driving innovation and setting the tone for the organization. They can inspire and guide employees to think creatively, to be curious, and to challenge the status quo. Leaders also need to understand that their decisions directly correlate to the amount of support in the innovation process, even regarding uncertainty.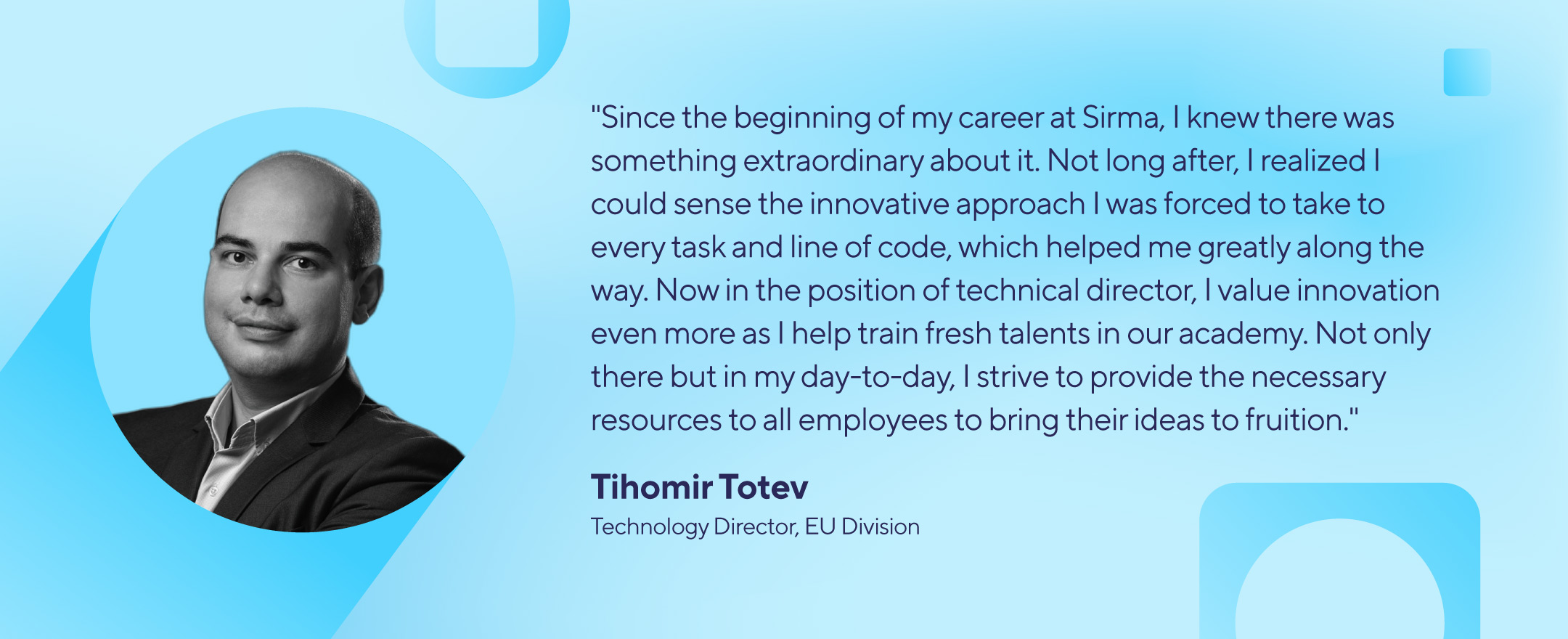 Long-term commitment to innovation means successful innovation often requires sustained effort over time. Companies must be committed to innovation and be willing to invest the time and resources necessary to see their ideas through to completion. This means thinking long-term and being prepared to make the investments required to ensure the success of their innovation efforts.
A noticeable leap in this direction is Sirma's efforts in developing the next-generation conversational AI chatbot using NLP and NLU. Our Conversational AI platform focuses on the needs of larger enterprises and e-commerce by targeting multiple use cases, modalities of conversation (i.e., speech, chat, text messaging, email), and the ability to operationalize within the enterprise.
Sirma has already implemented the solution in several banks and financial institutions, where we saw an average of 28% cost reduction, 95% customer satisfaction, and a 12% boost in sales. These numbers make it clear that innovation drives the bottom line of financial institutions.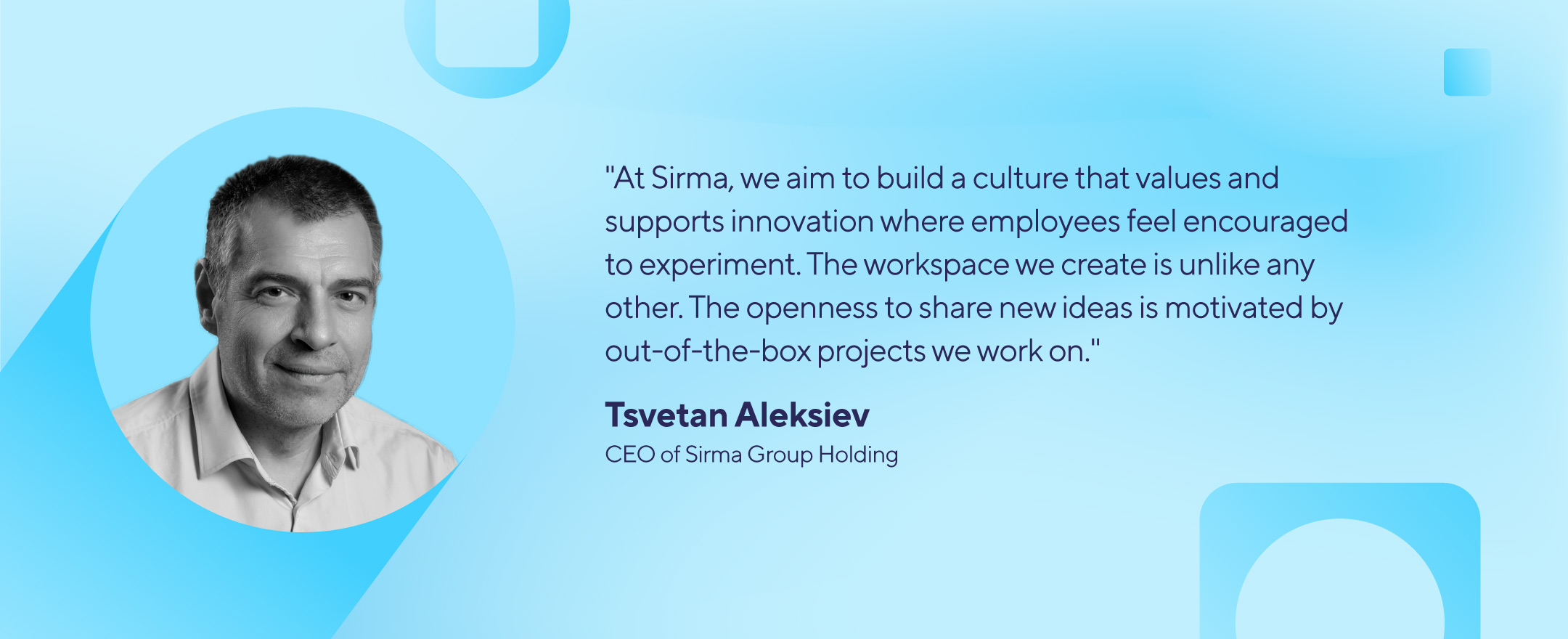 Innovation requires a willingness to learn, enthusiasm to try new things, and extracting value from failures. Additionally, "seeing both sides of the coin" is an essential part of the innovation process, as it allows companies to understand what went wrong, adapt, and how to improve for the next time. This means being open to new ideas and approaches and taking risks.
In conclusion, disciplined innovation is essential for organizations that want to stay competitive in today's fast-paced business environment. By implementing some key principles, companies can create a culture that values and supports innovation, align innovation efforts with their overall goals, and develop a process for identifying, evaluating, and implementing new ideas. Organizations can position themselves for ongoing success with a long-term commitment to innovation and a willingness to learn and adapt.
We at Sirma have a long history of empowering companies to be more innovative while helping them implement the latest innovative tech developments. Our drive for innovation has never been as important as it is now. It is the core reason organizations stay ahead of the curve, create new revenue streams, and improve customer experience. To achieve this, they must be willing to embrace change, take risks, and continuously improve. If you also have an aching strive for innovation – contact us for a collaboration on your next project.