This summer has been sweltering for Europeans and the leading financial bodies within the EU. The European Commission has proposed changes to the EU Payments Services Directive (PSD2) with the PSD3/PSR bundle, affecting third-party providers, banks, payment service providers (PSPs), and retailers.
It's important to note that on top of PSD3, a Payment Services Regulation (PSR) will implement the outlined changes. Payment Services Regulation (PSR) replaces a significant portion of PSD2 and strengthens the strategy by promoting cross-border payments, competition and innovation, payment security, and the euro's international role. The PSR will regulate both Open Banking and payment providers to create a more coherent, single legal framework across the EU that will, in turn, reduce the fragmentation coming from national legislation.
Overall, PSD2 has proven effective in reducing fraud and improving user experiences. However, it has encountered obstacles in establishing fair competition for all PSPs. Non-bank PSPs have struggled to gain direct access to crucial payment systems, which has hindered their ability to compete and stifled innovation. The goal of PSD3 is to address these issues and promote healthy competition, which is crucial for driving advancements in the finance industry. The changes will enhance secure e-payments for customers in the EU, increase the number of PSPs and clear the ambiguity regarding the wide adoption and implementation of Open Banking. The Commission's proposal for Open Banking enables access to financial data, promoting innovation and competition in the financial sector.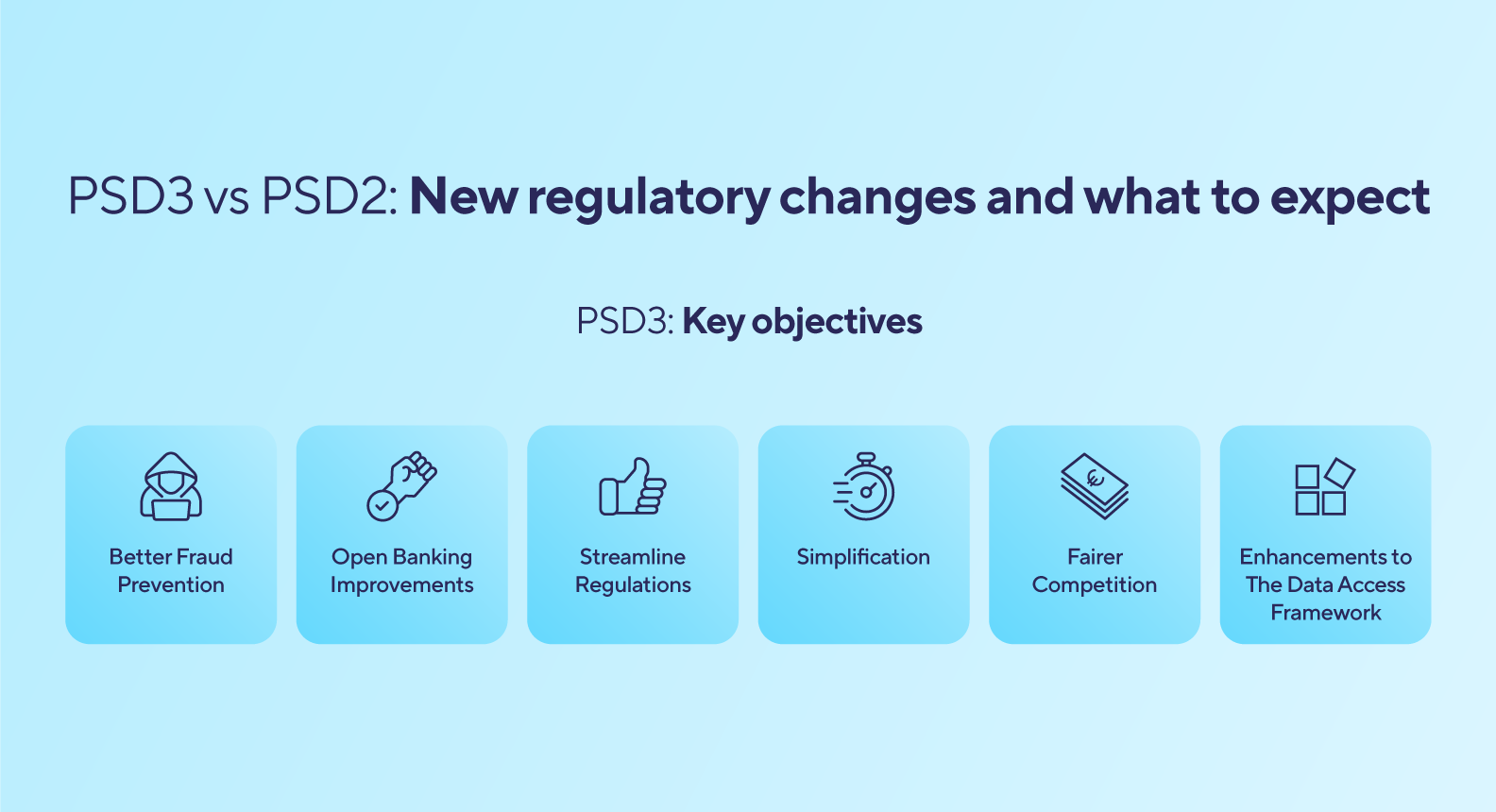 Here are six main improvements you need to know:
Improved fraud prevention: The European Commission is improving digital payments to make them accessible, secure, and affordable while protecting customers. PSD3/PSR and Instant Payments Regulation encourage innovation and ensure companies comply with the EU and local law.

Open Banking Improvements: The PSD3 consultations have proposed several measures. These include improvements to boost the security of payment transactions - refine SCA implementation, extend IBAN verification to cover all credit transfers, educate on fraud prevention, protect consumers, incorporate instant payments, and adopt security standards aligned with strategy objectives.

Streamlinе Regulations: Creatе a unified regulatory framework for EU member states to support cheaper international payments, global messaging standards, and foster connections between payment systems. Facilitate data sharing, revamping open banking and third-party access. This will enable seamless transactions and foster innovation in payment services.

Simplification: Propose merging e-money institutions (EMIs) with payment institutions (PIs) under one regime aiming to impose all payment rules regarding PSPs to be directly transferred.

Fairer competition between banks and the 1000+ non-bank PSPs: Implementing PSD3/PSR will drive down prices and promote a fair competition environment, giving non-bank payment service providers an equal opportunity to offer innovative solutions in the fintech industry.

Improvements to the Data access framework: Data protection and privacy concerns will be addressed in the revised directive (PSD3/PSR), aligning with the General Data Protection Regulation (GDPR) and enforcing stringent measures to safeguard consumer information.
In conclusion, replacing a large part of PSD2 with clear, simple and relevant rules, removing unclear components and tightening the sanction requirements will enormously benefit all stakeholders – users, banks, fintechs and official bodies. These highly anticipated changes represent a significant step in regulating the European Union's digital payments and banking services.