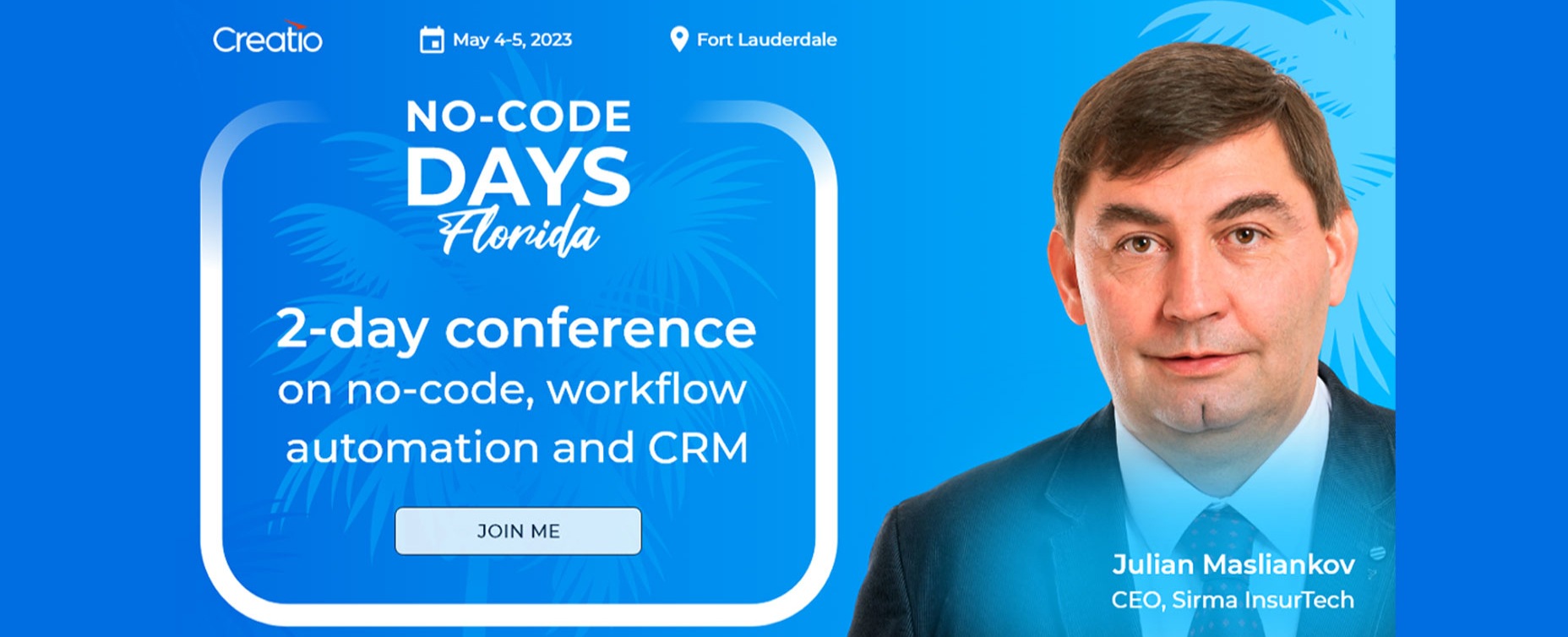 11 Apr 2023
Sirma InsurTech will participate in Creatio's spectacular event: NO-CODE DAYS in Miami, Florida in May
Sirma InsurTech, as official representative for Bulgaria of Creatio - a global technology company for low-code/no-code CRM systems and business process management, will participate at the spectacular and major face-to-face event of the year "NO-CODE DAYS" in Fort Lauderdale, Miami, Florida.
On May 4-5, Creatio is hosting a deep dive conference for digital and IT leaders on the future of no-code, workflow automation and customer engagement.
Sirma InsurTech, in the person of Yulian Maslyankov, executive director of the company, will present its innovative insurance solution "Sirma Insuite", which covers basic insurance processes in life insurance, general insurance and health insurance. The application offers complete solutions for policy and claims management, as well as a wide range of accompanying sub-processes related to customer service and after-sales administration. It is based on the no-code Creatio platform and is part of the global Creatio Marketplace.
At this 2-day deep-dive conference on the future of no-code, workflow automation and customer experience, the participants will:
Discover how the no-code approach can change the game in their business.
Explore no-code success stories at first hand.
Network and exchange experience with peers and thought leaders. Get together with hundreds of forward-thinking business leaders & tech experts, make friends, and find reliable partnerships.

Be the first to sign up and save a seat for this major in-person event: Sign Up Here
About Creatio
Creatio is a global technology company, a provider of low-code/no-code CRM systems and solutions for automating and managing business processes, with the maximum degree of freedom. Millions of workflows are launched daily on Creatio's platform by thousands of customers in over 100 countries. Sirma InsurTech is the only certified partner of Creatio in Bulgaria. Learn more about Creatio's low-code/no-code solution, with which any business idea can be automated in minutes by contacting us at + 359 888 313 005, officesirmainsurtech.com or through the contact form.